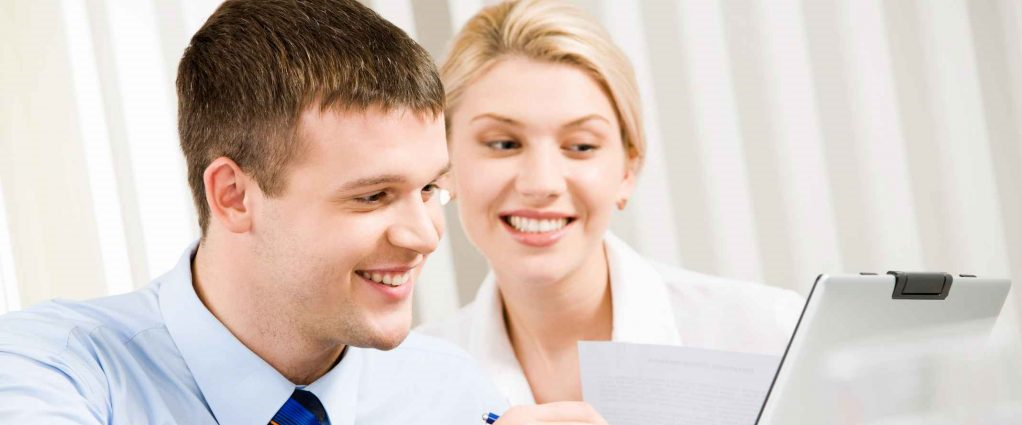 Whether it's an in-house desktop application solution, or a web based online business solution, or anything in between … we find innovative ways to exploit the very best and latest technologies to work toward the end game – helping your business to be more effective, efficient and successful.
In order to give you some idea of the range of solution types, technologies and styles that we produce, the following pages show some examples of web based client projects we have recently undertaken.
Job Management and Accounting Web Application
This web based application is highly suited for an organisation with multiple remote offices, centrally managing their jobs process.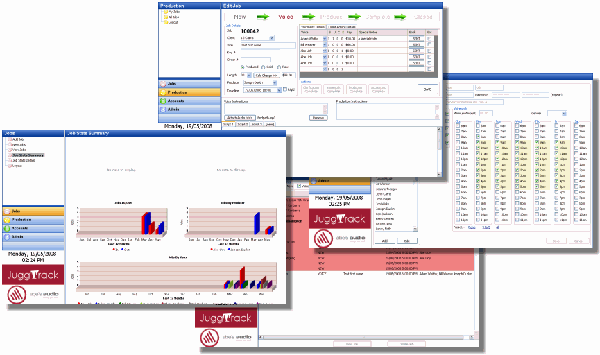 Utilising existing email driven requirements from clients, the system captures all aspects of each new job, applies algorithms against parameters to calculate ensuing supplier costs and resulting client charges, sends directive emails to suppliers, and allocates work to staff internally.
The system then monitors the supply chain and drives staff workload as product is available. Clients are advised via the system when work is complete. Statistical, graphical data is available, and the system interfaces to business accounting software to drive the client invoicing and supplier payment processes.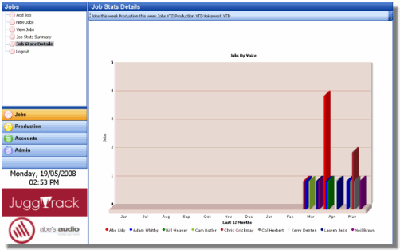 Customer Management and Accounting Web Application
This web based application caters for the specific requirements of a geographically diverse national organisation.
Providing essential customer relationships management (CRM), the system tracks customer organisations and their individuals, and specifically manages all aspects of registration, payment and attendance of delegates at annual conferences.
The system tracks and maintains the membership status of customer organisations and fully integrates business accounting, from invoicing and online payment processing, to banking reconciliation and audit reports.
Distributed Multimedia Content Sharing
This system provides a secure, internet based repository for shared multimedia content across the radio broadcasting sector.
With uploading, indexing, cataloguing, preview and retrieval functions, this facility serves the radio broadcasting sector allowing subscriptions to specific content and automatic downloading of individual episodes.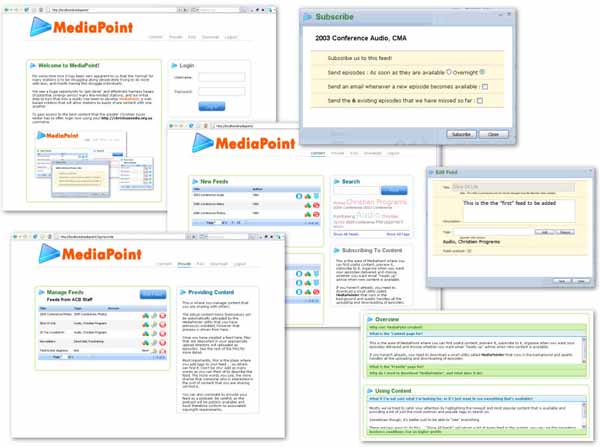 Utilising the latest web based application technology, users in every corner of the country experience desktop style functionality no matter where they are based.
Content made available is transcoded (into low bit rate) for preview purposes, and is automatically downloaded to the client in the background once a subscription has been established.
Email advice is optionally provided when new content is available, and content can be published for public use as podcasts.
Client Driven Job Management
This business had dual objectives, needing a solution allowing clients to directly specify job requirements via an online web portal, while also catering for staff working on those jobs across geographically diverse offices.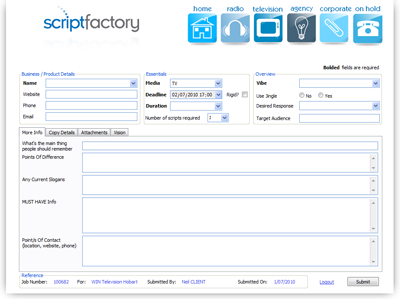 This involved a single web based application with two personas. An external public interface for clients to access, and an internal comprehensive management system used by staff.
The system captures all aspects of each job entered by clients, calculates client charges, and allocates work to staff. Clients are advised via email when work is complete and have the opportunity to approve or review the work via the external portal directly.